LNMU Part 1 Registration 2020 (Session 2020-23): Hello Friends, Lalit Narayan Mithila University ne part 1 ke registration aur online form ke liye notice nikal diya hai aur aap sabhi LNMU Part 1 Registration aur From fill up 2020 ab online kar sakte hain. Is article me aap sabhi ko puri jankari di gyi hai ki kis prakar aap sabhi ko LNMU Part 1 Registration session 2019-22 ke liye online process follow karna hai. To yadi aapne bhi 2019 me LNMU ke part 1 me admission liya hai to 16 January 2020 se iske liye online registration karwa sakte hain. BA, B.SC B.COM ke students iske liye regsitration LNMU ke official site se kar payenge aur iske liye step by step jankari niche share ki gyi hai. Iske liye last date 20 Feb 2020 hai to aapk kafi aasaani se lambe samay tak registration form bhar sakte hain.
| | |
| --- | --- |
| Name of the University | LNMU (Lalit Narayan Mithila University) |
| Status | Started |
| Session | (2020-23) |
| Official Site | lnmu.ac.in |
| Registration Mode | Online |
| Registration Fee | Not Mentioned |
LNMU भाग 1 पंजीकरण LNMU की आधिकारिक वेबसाइट पर किया जा रहा है। जिन उम्मीदवारों ने यूआईएमएस के माध्यम से एलएनएमयू में प्रवेश लिया है, उन्हें केवल पंजीकरण फॉर्म भरने की अनुमति होगी। इसके लिए आपको यूजर आईडी और पासवर्ड की जरुरत होगी जो एडमिशन के समय उपयोग हुआ था. एलएनएमयू भाग 1 पंजीकरण 20 जनवरी 2020 से शुरू होगा और 20 फरवरी 2020 को समाप्त होगा। साथ ही आप लेट फाइन के साथ भी इसका फॉर्म ऑनलाइन भर सकते हैं. आपको बता दें की इसका रजिस्ट्रेशन और फॉर्म दोनों एक साथ भरा जाना है.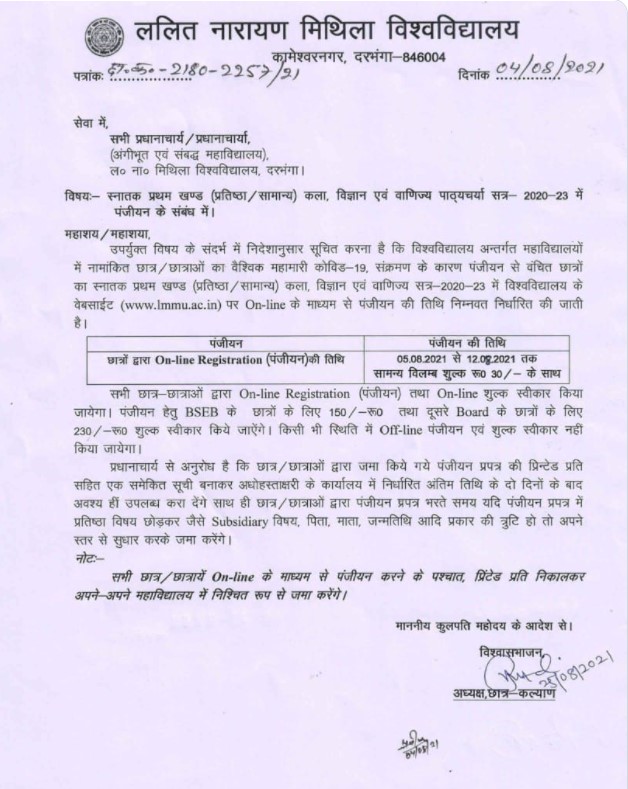 LNMU Part 1 Form Fill Up (2020-23)
To jaisa ki aap sabhi ko hamne bataya ki LNMU ke part 1 ka registration 16 January 2020 se online bhara jana hai aur iske liye last date 20 January 2020 hai to ab aapko bata dete hain ki iska liye registration online LNMU ke official site lnmu.ac.in par bhara jayega. Niche iske liye direct link diya gya hai taki aapko koi pareshani na ho iske liye registration form bharne me.
Saath hi aapko bata den ki yadi aapne LNMU me UIMS ke jariye admission liya hai tabhi aap iske liye online registratin kar sakte hain. Iske liye aapko Apna application number jo ki admission ke dauran mila tha usko bharna hoga. Baki ke step by step jankari niche share ki gyi hai.
| | |
| --- | --- |
| Events | Date |
| Notice Aaya | 05.08.2021 |
| Online Registration Start Hoga | 05.08.2021 |
| Last Date Bina Late Fine Ke | 12.08.2021 |
| Late Fine Ke Saath | — |
Aapko bata den ki Registration karne ke baad aapko iska Registration slip aapke college me jama karna hoga. Saath hi iske liye aapke pass ek valid email id aur mobile number hona jaruri hai.
How to Fill LNMU Part 1 Registration & Form?
sabse pahle LNMU ke official site www.lnmuuniversity.in/login or www.lnmuuniversity.in par log in karen.
Uske baad Registration for UG 2020 ke link par clic karen.
Ab New account par click karen.
Mobile number bharen aur OTP approve karen.
Ab puchhi gyi sabhi jankari sahi se bharen.
Aur last me ise review karke submit kar den.
| | |
| --- | --- |
| M.M. College, Kadirabad, Darbhanga | Registration Form |
| M.M.T.M. College, Darbhanga | Registration Form |
| M.R.S.M. College, Anandpur, Darbhanga | Registration Form |
| M. G. College, Darbhanga | Registration Form |
| R.B.J. College, Bela, Darbhanga | Registration Form |
| L.C.S. College, Darbhanga | Registration Form |
| N. Jha Mahila College, Laheriasarai, Darbhanga | Registration Form |
| Bahera College, Bahera, Darbhanga | Registration Form |
| A.M.M. College, Benipur, Darbhanga | Registration Form |
| Sati-Bharat College, Parari, Darbhanga | Registration Form |
| Q.A. Degree College, Jale, Darbhanga. | Registration Form |
| P.L.M. College, Jhanjharpur, Madhubani | Registration Form |
| S.M.J. College, Khajedih, Madhubani | Registration Form |
| K.S.R. College, Sarairanjan, Samastipur | Registration Form |
| Janta Degree College, Korthu, Darbhanga. | Registration Form |
| A.H.S.A. College, Madhubani | Registration Form |
| P.D.K.J. College, Andharatharhi, Madhubani | Registration Form |
| S.N.M. College, Bhairaw Sthan, Madhubani | Registration Form |
| Lutan Jha College, Nanaur, Madhubani | Registration Form |
| R.N.J.Collgege, Madhwarpur Madhubani | Registration Form |
| Janaki Devi Gaurishankar Saraf Degree Mahila College,Jaynagar Madhubani | Registration Form |
| Vidhi Mahavidyalay, Samastipur | Registration Form |
| S.M.R.C.K. College, Samastipur | Registration Form |
| Mahanth Narayan Das College, Chandauli, Ujiyarpur (Samastipur) | Registration Form |
| Chhattu Roy College, Kishanpur ,Samastipur | Registration Form |
| S.K. College, Thatiya, Rosera, Samastipur | Registration Form |
| G.K.P.D. College, Karpoorigram, Samastipur | Registration Form |
| Sant Kabir College, Samastipur | Registration Form |
| R.L.S.R.M.D. College, Shivajinagar, Samastipur | Registration Form |
| Rural Institute of Higher Education, Birauli, Samastipur | Registration Form |
| R.C.S.S. College, Bihat, Begusarai | Registration Form |
| R.B.S. College, Teyai, Begusarai | Registration Form |
| R.K.A. Law College, Begusarai | Registration Form |
| Mahanth Ram Jiwan Das College, Vishnupur, Begusarai | Registration Form |
ABOUT LNMU
Lalit Narayan Mithila University aspires to be an energetic and responsive University offering educational opportunities for learner community especially to the lower socio-economic strata of the society seeking quality undergraduate, postgraduate, research and continuing personal or professional enrichment in higher education and selected professions that will lead to formation of scholarly community serving the nation by advancing, sharing and applying knowledge and by facilitating the development of thoughtful, creative, adaptable, contributing human citizens